Support
The third area of service is that of strategic support for the whole Church. I produce and update a growing body of creative writing on church organisation, support the work of the UK Church Administrators Network (which I handed over to others in 2017), and have written three distance learning courses on my subject area.

Web resources
The Resources section of this website now contains over 200 items, all of which may be printed out or downloaded without charge (some minimal terms apply). These are written for a wide range of readers but especially Christian leaders and administrators. There are three categories:
Articles: general items of under 10,000 words covering a wide range of church/mission topics.
Training Notes: short, practical items, sometimes in list or note form, no more than 2,000 words.
Health-checks: detailed assessment tools for churches (the Church Health Review), mission agencies (the Christian Effectiveness Model) and individuals (A Gift Assessment for Administrators).
My Twitter feed @johnnvtruscott (see top right hand corner of every page) effectively acts as a fourth category. The Resources section of this site has full details and access to all the above items.

Networks
I established the UK Church Administrator Network (UCAN) in 2009 and ran it until 2017. This is designed for all who work as Church Administrators and offers local and national events, local groups, web forums on key topics, an online database and a bimonthly e-newsletter.
The aims include to encourage and support all who work in this sometimes unappreciated field and to champion the value of such appointments for churches. I grew UCAN from zero to 1,350 members.
The Administrators section of this site has details and points you to their website.
I also give advice to a wide range of enquirers by phone and email.

Distance learning courses
I have written courses for the Good Book Company, the Royal School of Church Music and St John's College, Nottingham. I lead the tutor team for UCAN's 'The work of a Church Administrator' course now with Cliff College as its academic provider.

Benefits
I make my support services available without charge* to provide:
encouragement to all who seek to use organisational gifts
practical help and innovative thinking on basic issues
strategic means of helping the Church to become more effective.
* except for writing the distance learning modules for which I have been paid.

creative organisation for effective christian ministry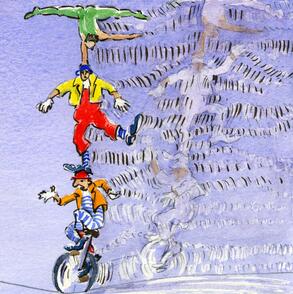 ---
A massive thank you for Monday's training. Many of the staff team have come to tell me both how helpful they found the content but also the format.
The Senior Minister of a large church following a staff training morning - April 2023
If you want to read short items (max 280 characters to be precise) click the Twitter icon near the top right-hand corner on every page to see a complete set of all John's tweets. These are designed to inform and provoke thought. If you have a Twitter account yourself, follow him @johnnvtruscott.

---