Assignments
These examples give a flavour of the kind of assignments carried out or planned during 2015 and 2016. Time involvement can range from one day to ten days or more, spread over some months.
I advise a wide range of denominations including Church of England, other Anglican churches, Baptist, Methodist, Presbyterian, independent and new churches, etc.

Consultancy
Various independent, external assessments of leadership and operational resourcing and structures for (on the whole) larger churches.
Advice on operational or administrative staffing appointments, involvement in interviews and initial support of new staff.
Audits of urban and rural churches seeking advice on single issues relating to vision, planning, communication, new appointments, etc.
Advising on the use of my 'Church Health Review' to assess every area of a church's ministry.
One-to-one work consultancy /coaching
Offering an external perspective to Ministers on their present or future ministries.
Providing 'black bin sack days', seeking to sort out clergy desks and studies and provide input on principles for how to keep desk and floor clear in future.
Working with mission or denominational staff on line management, mission support, etc.
Standing alongside church leaders facing difficulties of various kinds.
creative organisation for effective christian ministry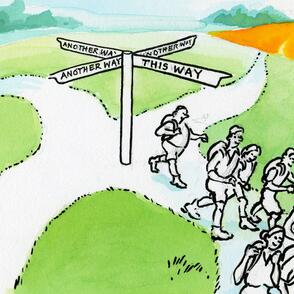 ---
Your help was so instrumental in enabling both the church and myself make change in both a swift and healthy way. Everyone on the PCC spoke about the value of the awayday you led and it helped to engender confidence and credibility in the decisions we took.
A Minister reflecting back on an assignment a few months earlier in an email of June 2016
Compare the cartoons at the top of the Advice and Assignments pages to get the message.
---