Assignments
These examples give a flavour of the kind of assignments carried out during 2018/19. Time involvement can range from one day to several spread over some months.
I advise a wide range of denominations including Church of England, other Anglican churches, Baptist, Methodist, Presbyterian, independent and new churches, etc.

Consultancy
Various independent, external assessments of leadership and operational staffing, resourcing and structures for (on the whole) larger churches and for mission agencies.
Advice on issues of strategy, often in a growing church where structures or plant no longer provide sufficient support or resource.
Audits of urban and rural churches seeking advice on single issues relating to hiring out of buildings, planning, communication, church offices, etc.
Support for the use of my 'Church Health Review' to assess every area of a church's ministry.
One-to-one work consultancy
The offer of an external perspective to Ministers on their present or future ministries.
'Black bin sack days', seeking to sort out clergy desks and studies and provide input on principles for how to keep desk and floor clear in future.
Advice to Ministers seeking to move to a new church on completing application forms and planning for interviews.
creative organisation for effective christian ministry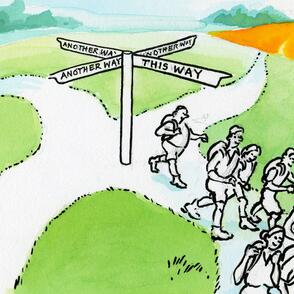 ---
Thank you for a really productive and thought-provoking workshop.
A Minister in an email following a Saturday church event - October 2019

Compare the cartoons at the top of the Advice and Assignments pages to get the message.
---