People I serve
The previous page showed that I serve six broad groups of people: leaders, managers, trustees, planners, communicators and administrators. This means I work with:


Clergy/Pastors and other church workers
Most of my work is church-based and I am usually reporting to a Minister, coaching those who are ordained or training a group of clergy. I am not ordained myself but understand the peculiar pressures and responsibilities of those who lead churches. I seek to equip Ministers in those vital organisational areas that most theological training ignores.
I work too with local groups of churches (eg. Associations, Presbyteries, Deaneries) and with wider structures such as Anglican Dioceses or whole denominations; also with solo Christian workers and those who serve on the staff of local churches.


Lay leaders and Church Administrators
I work with local churches of all denominations. Larger churches have more complex organisational issues to contend with, but small congregations need help too.
I serve the whole community of God's people, working with leadership teams, specific office-holders, and those in areas of practical ministry (eg. committee members, finance teams). I offer specialist support to Administrators and office and operational staff in churches.


Boards and staffs of mission agencies
Over the past few years some of my more detailed consultancies have been for Christian mission agencies, councils and theological colleges. Boards and Chief Executives are in great need of external, objective help on issues such as purpose and direction, people management and the effective handling of administration. However, I focus more on church work.


Overall
I work throughout Great Britain and Ireland from a St Albans base.
My work includes both 'service' and 'education'. I aim to provide the service that my clients request and seek to follow Jesus' example of servant leadership. But at the same time there should be a prophetic edge to such ministry so I try not to not shy away from a more challenging approach when I feel this to be necessary.
creative organisation for effective christian ministry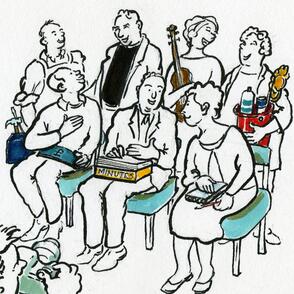 ---
Many thanks indeed for your training yesterday. It was an excellent mix of thoughtful wisdom from your years of experience coupled with practical and helpful discussion.
Email from a Diocesan Director of Curate Training - April 2023
---