Charges
Fees
I have to charge realistic fees for Advice and Training (Support is mostly free) to cover my costs and to provide the equivalent of a salary. But my charges are less than those in the secular market, partly because my own requirements are modest and overheads low. I work only in the Christian sector.
For smaller and disadvantaged churches/missions I offer reductions for those for whom this would make a real difference. Do not be afraid to enquire about this and I can then discuss it with you.
The tables below give my current rates. There is no VAT to pay.


Advice rates
Each assignment is individually priced, but based on the following rates. Clients may opt to pay per hour or work to a fixed budget.

| | |
| --- | --- |
| Short consultations of no more than 3 hours | £ 45 per hour |
| Normal consultancy rate for the first 30 hours | £ 38 per hour |
| Thereafter | £ 32 per hour |
| One-to-one work consultancy | £ 225 per half-day* |
| Additional one-to-one time | £ 32 per hour |
Preparation time is charged at full rate. Travel time, clerical work and break-time on-site are charged at half rate. A one-day visit is capped at the charge for 12 hours even if more hours are worked. The normal consultancy rate includes the provision of reports and on-going follow-up for some months after the assignment. The only extras are travel costs and any exceptional office or accommodation charges.
* This includes preparation and travel time and applies anywhere reachable by public transport in one day. I offer a 50% discount for those who have to pay themselves (rather than from a church or training fund).

Training rates
These are workshop rates. Writing is charged by individual assignment.
| | |
| --- | --- |
| Full day (6-7 hours inc breaks) | £ 410 |
| Short day (5 hours inc breaks) | £ 380 |
| Half-day (typically 3 hours) | £ 250-310 |
| Evening events (up to 2½ hours) | £ 210-270 |
| 48-hour residential events spanning three days | £ 740 |
| 36-hour residential events spanning two days | £ 690 |
These prices include the time taken to design a day to match your needs plus any handbooks provided for delegates. If there are more than 30 delegates, a small surcharge may apply with different arrangements for production of materials. The price for short events depends on distance to travel. Large speaking events are individually priced. The only extra costs are travel and, sometimes, accommodation.

I am often booked up for some time ahead, so get in touch as early as you can if you want to discuss a possible event or assignment. See the Services page for my current availability.
creative organisation for effective christian ministry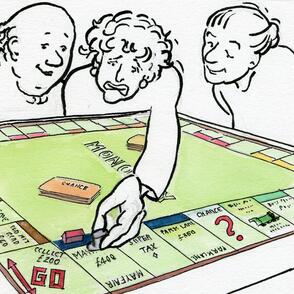 ---
I think the (consultancy) report is great, and it has already begun to shape my thinking about the church. It's an excellent piece of work. It's been a genuine pleasure to work with you.
A Minister in an email - June 2021

Note that quotes throughout this website come from unsolicited sources and are being continually changed to ensure that all have been received within the past 12 months.
---