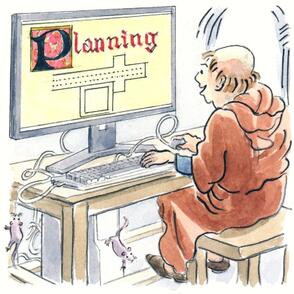 First published on this website in December 2011 and last updated in November 2021
Words:
1500
Size:
155 kB
Categories:
Planning
Synopsis
These notes are designed to encourage and support anyone who has a responsibility as a 'mission accompanier' or 'church consultant', helping a church to move forward in some way. There are five short sections:
We're not consultants, we're ...
(subversives, outsiders, watchers, listeners, interpreters)
Our role is to take a church out of its comfort zone
(how to why, detail to big picture, past to future, stability to change, institution to disciples)
A spectrum of views to move a church along
(building to Minister to helping Minister to us to global)
Who do we think we are?
(issues of weakness, discernment, honesty, relationships)
What about our expectations of ourselves?
(we bring experience, we ask questions, we challenge, we know the direction, we are not responsible for the outcome)
The notes conclude with a set of concerns and fears presented by one group of such consultants at a training session, and a reminder that we go in Christ's name.
As one point puts it, consultancy is only a means of helping people move on. It's no big deal in itself. It's a fancy term for travelling a short distance with people who would value some perceptive company.
Download
Here is the link to this item:

TN64 - Help! I'm a consultant.pdf
Share on Twitter
Send a Tweet about this resource:
Tweet
Author's notes
These notes have been updated in November 2021 with minor amendments to layout and text.